Certified Wireless Technology Specialist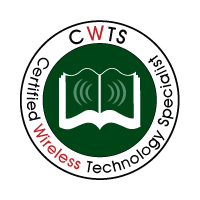 The CWTS certification validates the knowledge of enterprise WLAN sales and support professionals who must be familiar and confident with the terminology and basic functionality of enterprise 802.11 wireless networks.
About the CWTS Certification

CWTS (PW0-070) Exam Summary
Exam Number: PW0-070
Availability: Register at Pearson VUE
Duration: 90 minutes
Questions: 60
Question Types: Multiple choice / multiple answer
Passing Score: 70%
Available Languages: English
The main subject areas covered by CWTS:
Wi-Fi Technology, Standards, and Certifications
Hardware and Software
Radio Frequency (RF) Fundamentals
Site Surveying and Installation
Applications, Support, and Troubleshooting
Security & Compliance
However you choose to prepare for the CWTS exam, you should start with the exam objectives (PDF) , which cover the full list of skills tested on the exam.
NOTE: During the exam, you are not allowed to mark a question to return to that question, nor are you allowed to go back to any question on the exam once you have answered that question.
Before you take any CWNP certification exam, you need to be familiar with the CWNP exam terminology (PDF) used in the CWTS, CWNA, and CWSP exams.